High quality electronic acupuncture pen sales price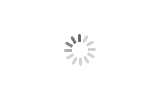 Electronic Acupuncture Energy Portable Meridians Pen
YJT HNC

WuHan,China

10 days

5000 sets/month
Power supply:3V lithium battery
Electrical impulse frequency: 20~50HZ
The output electric pulse width:200~420us
Open circuit output electric pulse peak voltage 0~360V
Maximum output swing:when 500Ωload, the voltage is3.3V
The charger input:alternating current110V~240V;50/60Hz
Output:3.7V,300±50 mA
Charging time(h)=battery capacity×1.2÷charging current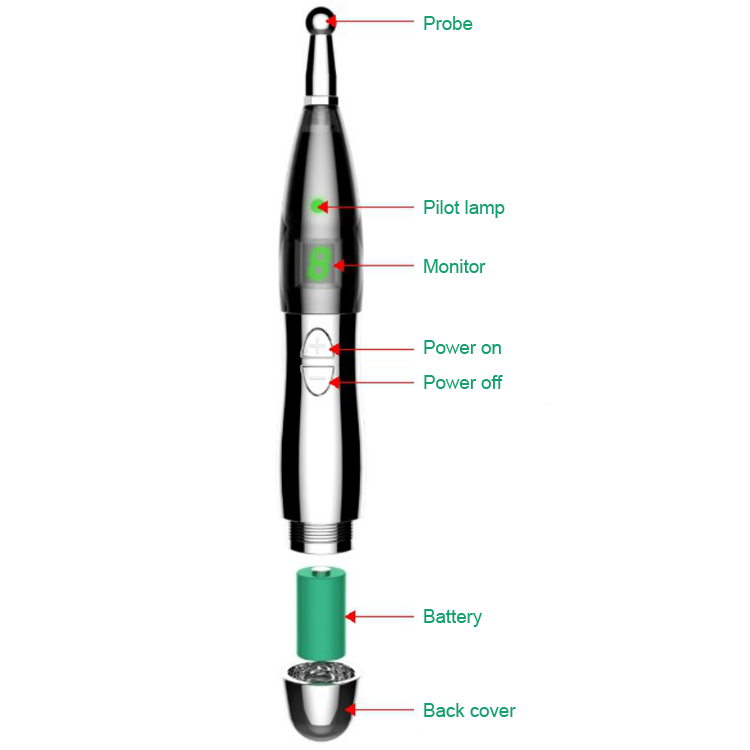 Before use, smear the cream on the surface of skin, lubricate the skin, and make it feel comfortable.
When end of use, press the "+" for about 1 second, you will hear the buzzer , and the screen show number "0", that means in stand by state
Hold the pen and touch the skin with the metal ball probe slightly, press"+" to start impulse, you will see the "1" on screen. And the green light will twinkle.
Move the pen slowly to find the acupoint, when you find it you will feel the vibration strongly, if not try to find with patient. During this progress you can adjust the strength of impulse by press "+"、"—", every press you will hear the buzzer.(prompt: when you see the green light twinkle that means there is impulse output, when no tinkle or the screen shows "0" that means no working, you can press "+" to start)
The number screen shows range from 0~7, to present the strength level of impulse. Press the "+" to add the level.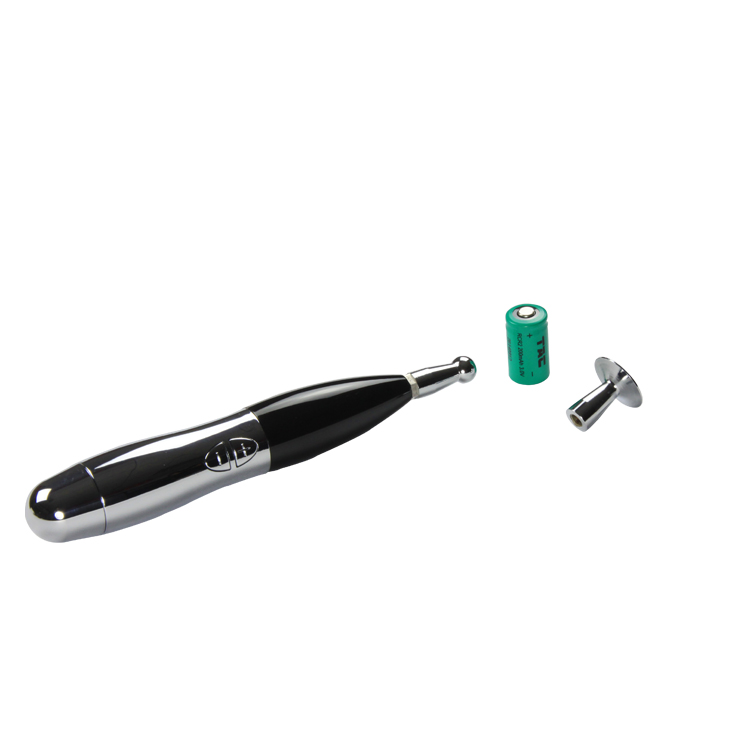 Healthcare:
When the metal ball moves on your skin, you will feel stimulation and vibration. The feeling will become stronger when the ball touches acupoints. You will feel relaxed and comfortable after treatment, because the corresponding viscus cells of human body get electrical stimulation. The tissues and organs of human body is effected directly through the bio-electricity axis network, so as to regulate the biological field, activate the metabolism of biological cells and free radicals and radically enhance the functions of human body like absorption, transmission, balance, metabolism and immune, eventually achieving the goal of health care.
Clearing and activating the channels and collaterals:
Meridian is the body running blood channels, since the turn of the section is mainly refers to the key points of the human body; large joints are regularly distributed on the key points of human body. Large joint's meridians, acupuncture points, is where human body physiological waste, phlegm, dampness, blood stasis, heat, toxin deposition most easily blocked, this is why the body is always has rheumatism in the joints. Often use this product in the human body especially massage on twelve meridians and acupuncture point, can remove blocked meridians, joints of deposition, to achieve the effect of collaterals. Dredge meridian can promote circulation between the blood and lymph circulation and metabolism, coordination between different tissues and organs function, enhance the human body disease-resistant ability, improve the condition of the body, if ill it cure, if no disease, to get the goal of prevention.
Reusable rechargeable battery
This pen equips with CR2 charger and 3V lithium battery, the charger use the SMPS circuit, stable current, is perfect for 3V lithium battery.
The charger is delicacy and small type, indicator light available and convenient to use.